For four days in June, hundreds of employees from across the United Nations family, stepped out of their professional roles to participate in and support the 47th UN Inter-Agency Games in Copenhagen, Denmark, in a show of comradery, competition, and fun. In a special interview, three UPU staff members who took part in the Games this year share their passion for sports and their belief that competitions like this benefit organizations at large.
For the sports enthusiasts who competed, the games represented not just a series of wins and losses, but a shared belief in the benefit of sport for personal well-being that also contributes to a better work environment.
The competition included athletics, swimming, golf, chess, bridge, and many other kinds of sport.
"Practicing sports together fosters social interaction, teamwork, patience, and respect," said Vanessa Lazo, Publications and Agreements Administrator in the UPU's EMS Unit. She was part of the women's volleyball team, which won the 2
nd
place in this year's games.
"My team, a group of women from different organizations, gathered for each game with enthusiasm regardless of the level of play, experience, who you were and where you were from," she said. "We celebrated every game won and cheered for every game lost."
Sports has always been a part of her life, having participated in basketball, gymnastic, athleticism and volleyball as a child. As an adult, Lazo sees sports as a way to stay active and healthy, while providing benefits in other key areas of life.
"Working out has given me self-discipline, has helped me improve my quality of sleep and mood, I am less tired and more present the next day," she said.
Claudius Anyangwe-Fombang is a Finance Expert at the UPU's Postal Technology Centre, and he participated in the men's football tournament, which fielded 20 teams. His team came in 5
th
after having been eliminated in the quarter finals.
Though he has played football his entire life, he says anyone, at any age, can take part in sports.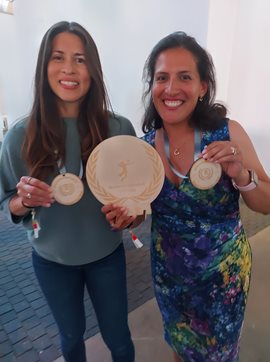 "Starting sports practice early is good, at least for professional purpose," he said. "But it is never too late for the purpose of exercise and health. It should be a routine."
Competitions like this also serve to broaden minds and benefit organizations.
"Playing in friendly competitions provides the platform to understand better the value of tolerance and respect for diversity," he said. "It also sharpens our skills in or our spirit of team-building, cooperation and commitment to team and organizational goals."
This year's competition was billed as the greenest games yet, and it's something that Anyangwe-Fombang sees value in. He uses public transport more than driving his car, and he covers a lot of distance on foot every day.
"Sustainability and sports refer to engaging in sport activities in an environmentally-friendly manner," he said, "an approach that reduces environmental and carbon footprint, provides sensitization for the public to be more conscious about the impact of sports on the environment, and the need to fight climate change."
The games have left a lasting impression on those who participated.
Anyangwe-Fombang said he could envision a similar competition for the UPU and member Posts. This could be a powerful tool for marketing and establishing strong connections through sports as well as instilling sports in the workplace culture and the postal sector globally, he said.
Jessika Brena, Assistant in the UPU's Knowledge Centre and Think Tank, was Lazo's teammate on the volleyball court and she encourages everyone who is interested to participate.
"It is special to fly to another country to play a sport that you love," she said. "It is special to take part in such a well-organized event (a phenomenal amount of work goes into organizing the Games). It is special to meet people from all over the world who share your passion. And it is special to learn about the work of your teammates and other UN agencies. It fosters an unparalleled sense of belonging, which I needed, loved and appreciated more than ever."
So, for all of those who have been curious about the games, but who for one reason or another have not been able to take part, Brena strongly encouraged her colleagues to take that first step and sign up.
The next games will take place in June 2023, in Vienna, Austria.
"They will be so much closer to home, so no excuses," she said. "I think this is an experience that everybody should have at least once in their life."
Check more photos from our interviewees in a special album on Flickr.