Since 1971, the UPU has encouraged young writers aged 9-15 to write letters on a given theme to win exciting prizes. The competition is an excellent way of making young people aware of the important role postal services play in our societies. It develops their skills in composition and their ability to express thoughts clearly. It also fosters enjoyment of letter writing and helps strengthen the bonds of international friendship.
The UPU's secretariat, the International Bureau, chooses a theme annually and publicizes it each year. Participating countries then organize the competition at the national level through the Post, often with the support of the educational authorities and media.
In 2024, participants will be encouraged to reflect on the future of the world under the theme: "At 150 years old, the UPU has served people around the world for more than eight generations. The world has changed enormously since then. Write a letter to future generations about the world you hope they inherit."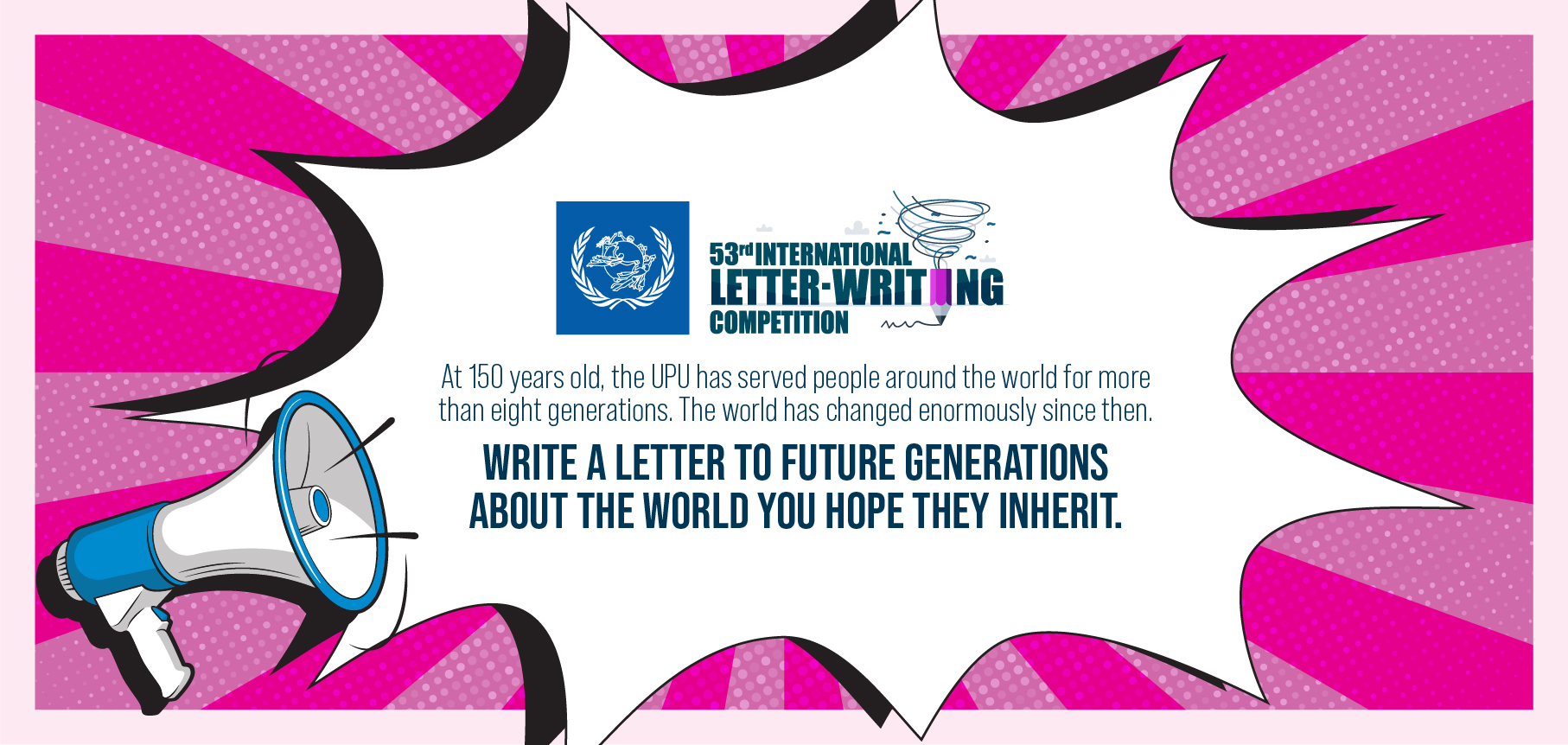 The chosen theme encourages young people to articulate their thoughts on current global challenges and propose innovative solutions. Aligning with the United Nations system's Common Agenda to deepen solidarity between generations and ensure a liveable planet for the future, the theme allows youths to draw upon the principles of the 2030 Agenda for Sustainable Development, providing a framework for their visions of a better world.
An international jury compiled by the International Bureau judges the letters and selects the overall winners and candidates that merit a special mention.
If you are an individual interested in entering the competition, please be sure to contact your national postal operator for more information about participating.
Recognizing safety as a critical component of its mission and in support of the UN Second Decade of Action for Road Safety, the UPU, in partnership with the UN Road Safety Fund (UNRSF), held its 52nd International Letter-Writing Competition in 2023 under the theme:
"Imagine you are a super hero and your mission is to make all roads around the world safer for children. Write a letter to someone explaining which super powers you would need to achieve your mission."
04.10.2023

Claire Gakii, 13 years (Kenya)

04.10.2023

Matilde Magalhães Da Silva, 11 years (Portugal)

04.10.2023

Dao Khuong Duy, 12 years (Viet Nam)
Meet the 2023 jury members
Agostina Massarini

Communications Officer, International Road Federation (IRF)

Agostina is a passionate intercultural communicator and polyglot with a knack for bridging cultural divides with words, ensuring messages resonate across borders. Hailing from Argentina, she harbored an early fascination for diverse societies, which led her to embark on an extraordinary journey spanning France, Brazil, Scotland, and her current residence in Italy.

Her academic journey is a testament to her linguistic expertise. She earned her Trilingual Bachelor's Degree in "Applied Foreign Languages" from the University of Lumière Lyon 2 in French, English, and Spanish. Building upon this foundation, she pursued a Trilingual Master's Degree from the University of Paris Nanterre, specialising in Intercultural Management with a focus on Corporate, Digital, and Events Communication.

After graduating she ventured into the dynamic mobility sector as a Programme Marketing Associate at the Techstars Cities of the Future Accelerator in Turin. She currently holds the position of Communications Officer at the International Road Federation headquartered in Geneva, Switzerland.

Throughout her journey she has collaborated with NGOs across multiple countries, extending her support to a local high-school in Brazil, contributing to the Scottish European Educational Trust (SEET) in Edinburgh, and engaging with like-minded organisations like AIESEC in France and the Rotary International. Throughout all these experiences she has enriched her understanding of the power of communication in fostering meaningful connections and driving positive change.
Jon Cerezo Abeijon

Partnership and Public Information Officer, UN Economic Commission for Europe

Jon is currently the at the United Nations Road Safety Fund, the UN specialized Fund on global road safety. With the rest of the UNRSF Team, the Fund aims to raise awareness among all audiences all over the world on the road safety crisis, strengthening at the same time the network of Public and Private stakeholders who have decided to join forces and tackle the road safety crisis, that claims the lives of more than 1,3 million people every year.

Before joining the UNRSF in Geneva and after his studies in International Relations and Cooperation at the University of the Basque Country, he has consistently worked in several communications, external relations and media departments for several UN agencies and NGOs. This experience has given him the opportunity to work in different contexts and environments, including local development issues with UNDP, defending the rights of refugees stablished in Ecuador, supporting the UNHCR response for displaced people in the Kasai region of the DR of Congo, or campaigning and advocating in France for greater support for humanitarian responses.
Annie Hammenrudh

Programme Management Officer, UN Department for Safety and Security

Annie is a former military officer hailing from Sweden, was invited to join the jury for the competition. In addition to her military career, she has almost 20 years' experience at a variety of security position the UNHQ, where one of her roles is road traffic questions for the Department for Safety and Security. As a mother to a young son, she was mostly impressed by the tremendous insight of the young letter-writers, commenting that she "wished grown-ups had that much sense when it comes to making the roads safer for everyone."

It has been a great honor to serve on this panel and to see first-hand the concern of young people globally, and what innovative ways they envisioned themselves being able to accomplish to make things safer if they only had superpowers.
Best of the Best - 50th Anniversary Competition
05.06.2023

Read the first-prize letters from 50 years of the UPU's International Letter-Writing Competition.

07.10.2021

Mi-kyong Ryu – 11, Korea (Rep.)
Theme for 7th International Letter Writing Competition for Young People «The postman, my best friend»