The success of any organization relies on integrating and highlighting the talents of all groups within the community it serves. An Post has worked to reflect this message in its own operations and in the community, showcasing women in sport among its own ranks.
When the residents of Crumlin in Dublin 12, Ireland
,
receive their mail in the morning, they probably have little idea that it has been delivered by one of Ireland's successful League of Ireland football players. An Post's Postal Operative Rebecca Creagh started her football career at the age of seven, when her father – a League player himself – took her to underage training with a boys' team. "It was inevitable that I was going to play football. I grew up watching my dad's games," Creagh says.
Tired of being left on the sidelines in favour of boys, at the age of nine she joined Templeogue United Girls' Team and never looked back. Her prowess as a goal scorer soon took her to the Raheny United Ladies squad, with whom she played for the inaugural Women's National League during the 2011/12 season.
Creagh has played a major role in her clubs' successes throughout her career, achieving four League titles, four FA Cups and two League Cups. After a foot injury and a difficult but successful return in 2021, she decided to take time away from the game and step into an advisory role.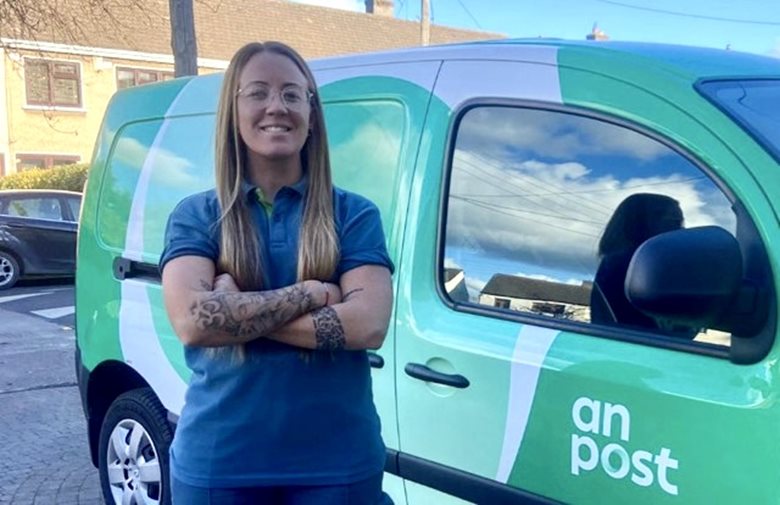 Having achieved all she has ever wished for and more in sport, Creagh says that she couldn't be happier with her new role at An Post. "My route in Crumlin takes me to over 20,000 steps a day. And the banter is great as there are a few ex-League of Ireland players in the unit," she says.
As a physically demanding profession, positions in the Post naturally attract current and former athletes as well as sport enthusiasts. In a
recent article by the UPU News
, distinguished French athletes and employees of La Poste France, Kévin Campion and Thu Kamkasomphou, acknowledged that the nature of postal work suited them well given their sports careers.
Creagh agrees: "In my opinion, postal operatives are probably some of the most active people in the working world. For me, one of the reasons I wanted to work in An Post is because I knew it was a very active job, it would have me out each day no matter what the weather, mixing in communities and creating a good lifestyle for myself."
An integral part of their communities, postal workers can become role models for residents, both physically and mentally. "Daily we get up at 5 a.m. and are on our feet until our work is done. We cycle on our duties, therefore promoting a healthy lifestyle within the community," explains Creagh.
Creagh 's story first appeared on An Post's employee app, Post People, to inspire and encourage other colleagues, especially women, and as part of the Post's initiative to profile outstanding Irish sportswomen.
The initiative, dedicated to Women's History Month (March), started with a special
Irish Women in Sport stamp issue
. The six stamps, beautifully designed in Dublin and full of energy, passion and pursuit of excellence, showcase the enormous contribution made by sportswomen to the national success in various disciplines.
According to Creagh, such initiatives are a good example of the important advocacy role and the strong positioning that the Post has to raise awareness of key social causes and promote positive societal change. "It gives these athletes public visibility and shows, most importantly to young girls and boys, that we, women, have a place in sport and society."
In its latest
sustainability report
, An Post demonstrates a comprehensive approach to sustainable development, as opposed to an exclusive focus on climate-related topics. Reducing gender pay gap and improving community well-being during the pandemic remarkably come first in the list of the Post's main sustainability achievements, in addition to a very strong green portfolio.