The fourth Extraordinary Congress of the UPU is just around the corner. It will take place from Sunday, 1 October to Thursday, 5 October 2023 in Riyadh, Saudi Arabia. In addition to discussions regarding the opening up of the UPU, members of the Consultative Committee will also be able to participate in activities crafted for them.
CC Booth
Congress participants will have the opportunity to get acquainted with the activities of the Consultative Committee through its dedicated booth in the exhibition area. CC members registered for Congress will have their information displayed on monitors in the booth.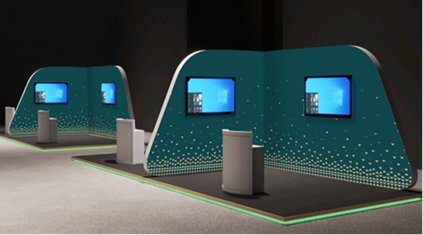 CC booth.
The booth will also serve as an exchange space for CC members, UPU member countries, designated operators, observers, and all other wider postal sector players attending Congress.
Matchmaking
This space will also allow Consultative Committee members to connect with designated operators (for members that made a matchmaking request and registered in advance to attend the Congress). Any CC members wish to engage in matchmaking during the Extraordinary Congress are invited to send the required information to CC@upu.int:
Your company name
Your membership status
Name of country requested (e.g. if you want to meet with Swiss Post, put "Switzerland")
Type of organization requested (operator, regulator, ministry)
Meeting agenda
Preferred date and time for the matchmaking
In-person meeting or virtual meeting
Gold members may make unlimited requests.
Silver members are limited to five accepted requests per year.
Bronze members must pay 1,000 CHF per accepted request.
Please refer to the dedicated section on our website for more information on membership conditions.
Once a member country has agreed to a meeting, it is up to the individual CC member to finalize the specific time and location. For meetings resulting from successful matchmaking, members are asked to use the coffee shops and discussion areas available at the venue (Ritz-Carlton Hotel).
During the Congress, CC members are free to contact delegates directly; however, they are more likely to succeed in obtaining a meeting with designated operators if they use the Consultative Committee's matchmaking service. Please submit your matchmaking request as soon as possible!
Congress General Information - Logistics
All necessary logistical information (hotels, transport, security) can be found in the presentation below (download will start after clicking the link):
http://file.upu.int/xchange/public/15dc3b25e876e62c7aa2f76633faea62084fa4e7
Please pay special attention to slides 65 and 66 regarding transportation from the airport to the hotel. You need to provide this information on the UPU event management platform (where you registered for the Congress). It will then be submitted directly to the event organizer in Riyadh. Please also feel free to share the information about your flight and hotel with the CC secretariat (CC@upu.int). We will keep it just in case, to ensure that you are met at the airport.
A video portal is now available with tutorial and general information videos.
It is accessible directly at video.upu.int or through the UPU Event Management Platform (EMP) (events.upu.int) under "Video Portal". If prompted, please use your UPU account credentials to authenticate your identity.
The tutorials show you how to update your logistics (flights and hotel) information in the EMP, and how to participate as observers, print documents, among other things.
More information for registered participants can be found below about:
General information about the Extraordinary Congress can be found on: https://riyadhcongress.upu.int/
We look forward to seeing you all soon in Riyadh.