Postal Data Hackathon 2023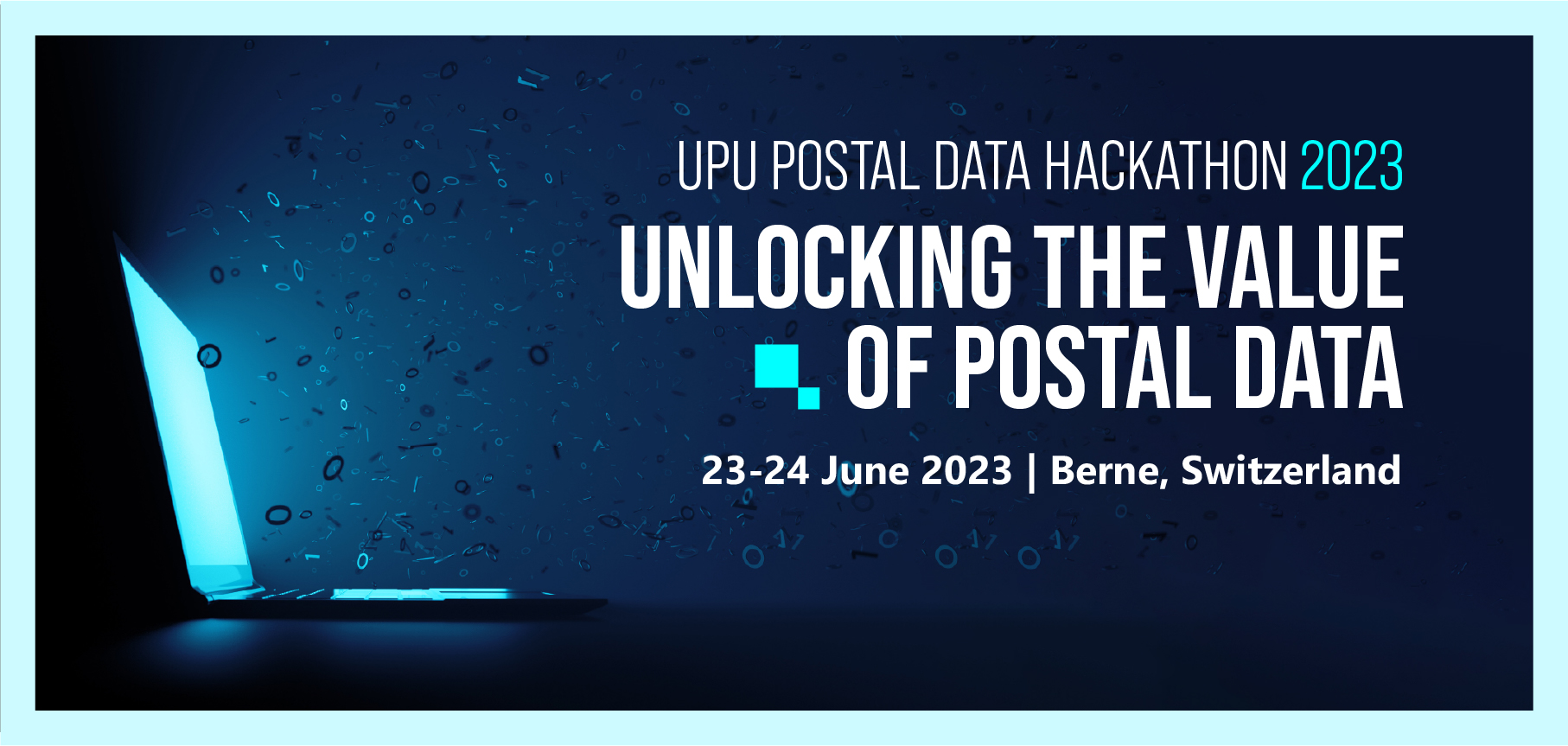 Postal Data Hackathon 2023: unlocking the value of postal data
Fostering innovation is a key element of the Abidjan Postal Strategy and Business Plan for 2021–2025. The COVID-19 pandemic accelerated the need for innovation within the postal sector. Although postal operators manage an enormous amount of data, the value of this data in the generation of innovative solutions remains largely untapped. Collaboration will be critical to unlocking this potential.
In order to breathe life into partnerships between postal operators, technology companies, academic institutions and other experts, with a view to addressing challenges and jointly creating solutions based on the wealth of postal data, the UPU hosted the first edition of the Postal Data Hackathon in Berne, Switzerland, on 23 and 24 June.
For the first time ever, the UPU made available data (excluding all personal details) from 30 postal operators, covering the movement of mail items, as well as other related postal data. This provided a unique opportunity to analyze the movement of goods around the world through postal networks, and to combine this information with other relevant trade or transport-related data, in order to explore major issues, challenges and innovations leading to a sustainable, green and data-driven future for all.
The hackathon brought together nearly 60 participants from more than 20 countries, representing UN organizations, academic institutions, postal operators and companies in the technology and logistics sectors, including data scientists, developers, business managers and policy experts.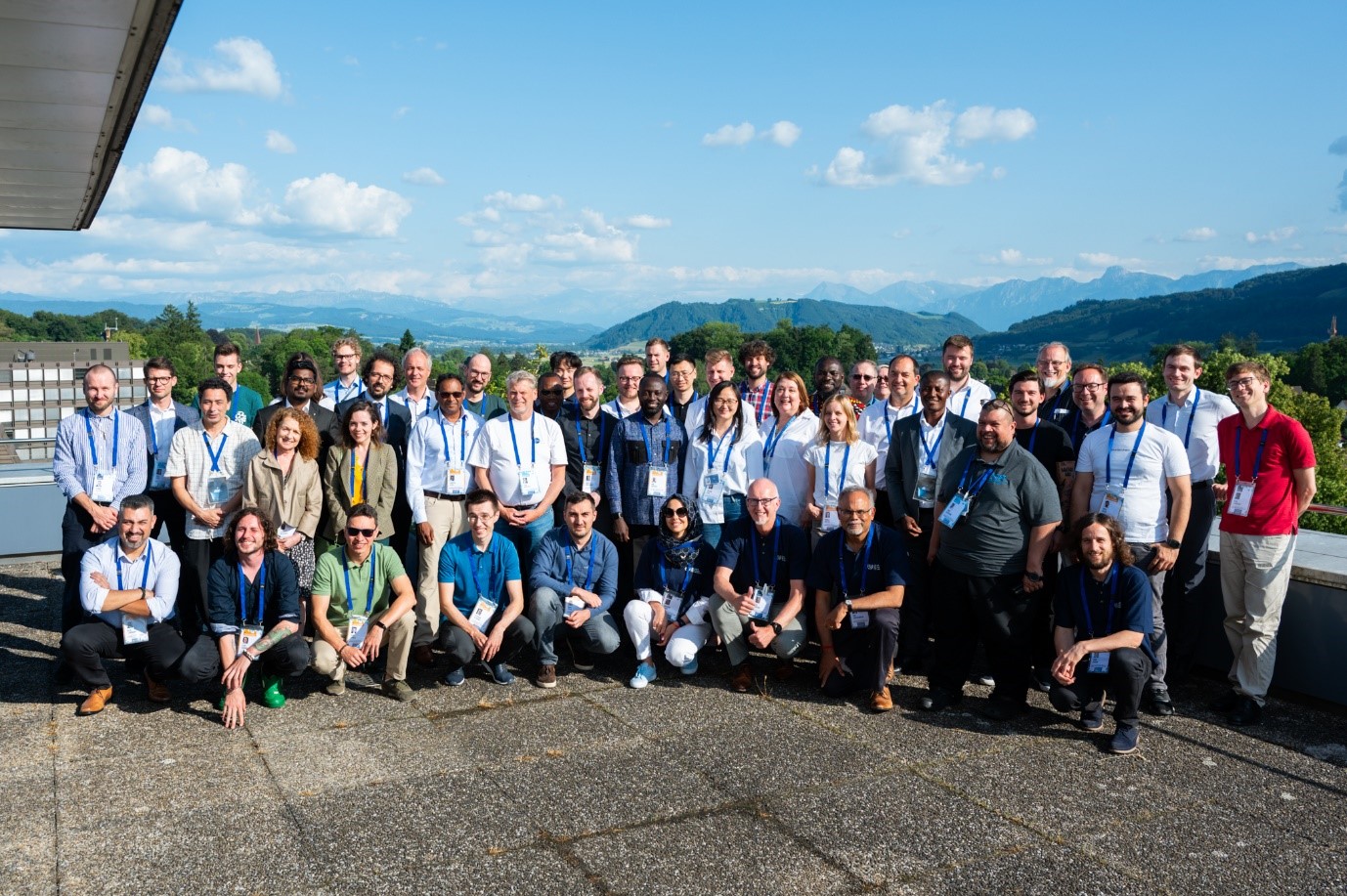 Working in various multifunctional and multidisciplinary groups, the participants studied ambitious challenges relating to critical issues facing the postal sector. They had access to a wide range of UPU data sources, including postal item tracking data, global addressing data with geo-coordinates, country-level postal statistics and the UPU standards, as well as ICAO aviation and cargo carrier data and UN Comtrade data. All data sources excluded personal information.
An open call for challenges in advance of the event resulted in a wide array of issues for the participants to tackle. The challenges selected for the hackathon were as follows:
Title

Description

Outcome

Making packages talk



Currently, each transporter needs to receive a dataset prior to a package being handed over. In general, each transporter will have its own requirements relating to the dataset structure and content. All too often, each transporter also insists on its own format for the label affixed to the package resulting in relabelling of the package along its journey. This creates significant confusion when communicating on the progress of delivery of goods ordered and transported in package(s).

The team drew up a concept of a global standard "Sync Code" whereby structured data is included in a 2D barcode, thus facilitating interpretation of the data by any party in the supply chain, regardless of origin, carrier, or destination.

Coupling digital identities

Owing to different national regulations on the quality of products that can be imported, certain products may not be able to enter certain countries. From a logistics perspective, it may be difficult to track shipments given the involvement of third-party logistics companies and multiple carrier handoffs, which in turn can lead to potential delays to shipments.

The team coupled secure digital identities with trusted postal data. In this way, it was able to increase cross-referencing of authoritative data sources and to explore potential dynamic (bi-directional) exchange of data to improve overall accuracy.

Ensuring postal resilience in the digital economy

The postal sector is facing significant disruption owing to the rise of e-commerce and the changing expectations of customers. These factors have resulted in increased demand for faster and more reliable delivery services. The aim of this challenge was to explore new ways of using data to improve the performance of postal companies.

The team combined open data with UPU data to develop a web application providing better visibility and traceability of postal items. By making accurate predictions of delivery paths and optimizing delivery routes, the solution can help to minimize transit time, thus enhancing customer satisfaction.

Data-driven solutions to plastic pollution



The postal sector is linked with the life cycle of plastics, from plastic generation to waste. Demand is created in the form of plastic packaging by senders, but the waste plastic is handled by recipients at destination. New business models are needed to create incentives for circular approaches within the postal sector, as well as in other sectors. To make this possible, plastic life cycle data is required to understand the uses of plastic packaging, and the movement, reuse and disposal of plastic products.

The team identified data gaps and proposed a series of incentives through postal data tailored to consumers, regulators and businesses
(See here for blog post).

Bridging the digital divide

Data-driven solutions can be used to identify areas of growth, as well as potential risk areas that may fall behind in terms of connectivity and digital services, in order to contribute to bridging the digital divide.

The team identified several correlations among datasets and outlined clear actions and next steps, including introducing lags in some data to account for delayed effects and exploring the conditions to open some of the datasets.

Preferred choice of e-commerce delivery

Mail volumes have been falling since e-mail has become prominent. E-commerce is growing. The aim of this challenge was to find unique ways for postal operators to enhance their role in the e-commerce delivery market and identify ways to generate new revenue.

The team implemented a demonstration of a direct-to-consumer engagement platform that Posts could offer, and estimated the impact thereof.

Preventing counterfeit products from reaching consumers

The purpose of this challenge was to develop a solution to intercept counterfeit or illicit parcels at the sorting point using UPU parcel data.

The team ran global standard anti-counterfeiting software on the UPU data to determine the feasibility of using the data for parameters to evaluate counterfeit products.
The diverse backgrounds of the hackers, challengers and mentors yielded some unexpected outcomes, extending beyond the selected challenges. For example, the UPU's Universal POST*CODE database was successfully transformed into a map, creating a solution that the UPU will develop further in the near future with a view to making postcode maps widely accessible.
Further information on the challenges and outcomes can be found at dribdat.hackathon.post/.
Thank you to our partners. The Postal Data Hackathon 2023 was organized by the UPU with the support of La Poste Group (France), Eurora, the Swiss Federal Institute of Technology in Lausanne (EPFL) and the International Telecommunication Union (ITU). It was facilitated by Opendata.ch (a non-profit association that seeks to increase transparency, participation and innovation), with data contributions from the International Civil Aviation Organization (ICAO) and the United Nations Statistics Division.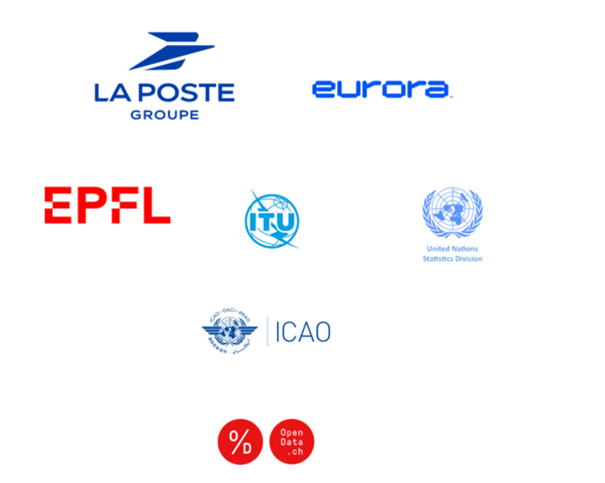 If you have any questions or wish to participate in upcoming UPU hosted hackathons, please reach out to us: eservices@upu.int