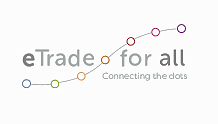 The UPU is a founding partner in the UN eTrade-for-all initiative. Launched in July 2016, it is a collaborative effort to scale up cooperation, transparency and aid-efficiency in the field of inclusive e-commerce.
"eTrade for all is a ground-breaking effort built on cross-sectoral synergies to address the challenges faced by many LDCs in their efforts to be fully included in the E-commerce value chain. The platform creates opportunities for the UPU and others working in dynamic partnership to achieve far more than they could on their own. Whether in last mile delivery, digital payments, virtual market places or in trade facilitation, the postal network's contribution is critical to driving forward the eTrade for all's implementation agenda." - Mr. Bishar Hussein, Director General of the UPU
Joining forces for eTrade readiness
The UPU is a regular contributor to the Rapid eTrade Readiness Assessment Programme. Thanks to the collaborative effort of the eTrade for all partners and donors, the programme provides evaluations of the national e-commerce ecosystem, resulting in coherent analysis and recommendations in the form of an action matrix focusing on the 7 key eTrade for all policy areas.
More details on the assessment reports can be found here