The postal sector plays an important role in promoting socio-economic development. Affordable, efficient and universal postal services substantially reduce transaction costs between economic agents, granting them access to a vast communications and infrastructure network. Postal economics studies the supply and demand of postal services and the role of the postal sector within the overall economy.
Each year, the Postal Economic Outlook focuses on the latest issues surrounding the global economy and the postal sector. It does so by presenting the most recent postal statistics in conjunction with key macroeconomic variables.
In 2020, the global economy has been deeply affected by the outbreak of COVID-19, with great ramifications for international supply chains. The 2020 edition of the Postal Economic Outlook uses information collected via the UPU's big data platform to show that international mail volumes remain depressed, with a 20% decrease in registered items compared with the previous year. In the absence of public support, accommodating policies and a rapid resolution of the health crisis, it seems unlikely that disposable income and e-commerce will grow enough to bring about a swift recovery in the postal sector. Estimates suggest that worldwide operating revenue losses stand at between 4.5 and 6.5 billion SDR.
In order to determine the how COVID-19 is affecting the postal sector and the overall economy, the UPU has been regularly monitoring economic and postal aggregates in close collaboration with partner international organizations. The reports in this section attempt to provide a global picture of the latest developments.
09.10.2020
—
How COVID-19 is changing the world, a statistical perspective: Vol 1
03.09.2020
—
This report updates some of the global and regional trends presented in the first volume and offers a snapshot of how COVID-19 continues to affect the world today across multiple domains. The report also highlights the impact of the pandemic on specific regions and population groups.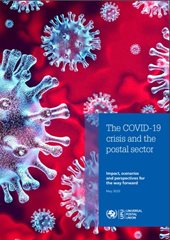 28.05.2020
—
Impact, scenarios and perspectives for the way forward – May 2020.