The UPU's Knowledge Centre and Think Tank Unit was created to generate cross-thematic, future-focused, knowledge products that are much needed by the global postal sector to ensure a robust and sustainable universal postal network.
This quarterly series of UPU Think Tank Briefs are intended to support postal decision-makers with the knowledge and policy focused guidance they need to meet the needs and expectations of tomorrow's postal customers and stakeholders.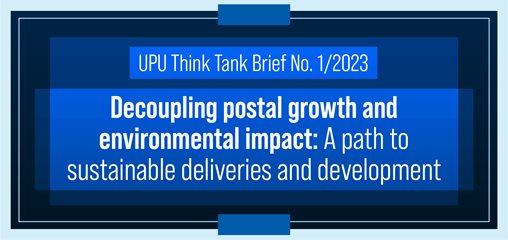 14.08.2023
—
This policy brief explores the potential for, and the economic implications of, "decoupling" the global postal sector, which is a contributor to global CO2 emissions. It also discusses the types of decoupling and the need for better postal decoupling outcomes, namely for absolute declines of CO2 emissions in spite of growth in parcel-post activity (strong decoupling), or lowerthan-proportional emissions increases (weak decoupling) effectively responding to climate change.