Union Postale magazine - established in 1875 - reports on developments from the international postal sector and the UPU primarily to stakeholders from its 192 member countries.
Readers include governments, regulators, chief executives, operational experts, post-office employees, strategic thinkers, industry suppliers, academics, philatelists and anyone else with a keen interest in Posts.
Many regard it as an important source of information.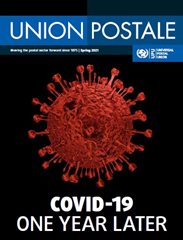 18.05.2021
—
In March 2021, the world marked the one-year anniversary of the COVID-19 pandemic. COVID-19 led to a global downturn and left healthy economies teetering on the cliff-edge of disaster. All of these outcomes affected the international postal sector.
Union Postale
dedicates this edition to an exhaustive examination of the events of last year. When viewed together, they represent an engaging narrative about how the industry coped during a deadly global crisis.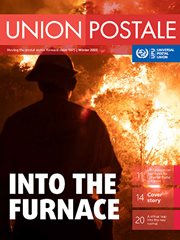 02.02.2021
—
During summer 2020, the Western United States faced a series of horrific firestorms that burnt their way across California, Oregon and Washington followed by other fires on the West Coast. These fires killed around 37 people, and ravaged businesses and homes destroying millions of acres of land. Despite the fires, the United States Postal Service (USPS) managed to deliver the mail. "Into the Furnace," the cover article, is USPS's story of how they overcame a fast moving disaster to keep their services running.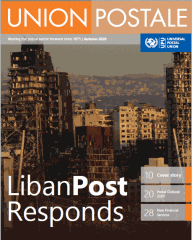 03.11.2020
—
How do posts continue to operate during a terrible crisis? This is the subject of the Autumn edition's cover story. On 4 August, over 200 people were killed and hundreds of thousands left homeless when an explosion ripped through Beirut. LibanPost, Lebanon's designated postal operator, did not escape the destruction and suffered injuries to staff and damage to its post offices. Despite this, the postal operator kept working. The cover story examines the tragedy from the perspective of those who work in the post.
Union Postale is published in English, French, Arabic and Chinese.
A one-year subscription costs 50 CHF for private subscribers. Specially reduced rates are available to national Posts and governments.
20.02.2020

Updated: August 2018.

20.02.2020

List of publications on sale for UPU member countries representatives and postal staff.
Updated: August 2018.